Textile art, fashion and home accessories made from recycled or remnant materials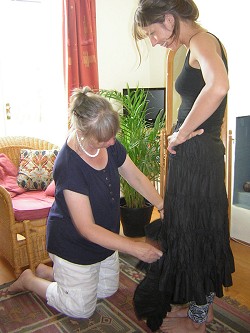 Based in my home studio in the centre of Derby, I combine my life-long love of sewing and textiles with an equally long-standing habit of recycling.
My work spans a very wide spectrum - from exhibited textile art to fashion and home accessories. What links it all is that everything is made from recycled or remnant materials. Sewing thread, and paint for backgrounds and frames, are the only things I allow myself to buy (and people donate me so much fabric that I don't even need to buy it from charity shops!).
I make unique textile creations to wear - all from recycled and remnant fabrics - jackets from old curtains, blouses from embroidered tablecloths, hats and brooches from felted sweaters, evening dresses from stitched together fabric samples ... and it's the same with my textile art - absolutely everything is recycled, but this time including not only fabric but frames, keys, buttons, rusty zips, beads, bottle tops and string!
Take a look ...
Contact Me
Please contact me by telephone on 07771 547 596, or by completing the form below and clicking 'Send Email'.
Note: Fields marked '*' must be completed.